Best Horror Movies of 2012
Recognizing the year's best horror films. Let's take a look at the biggest and best horror movies of 2012. The scary list features the usual mix of prequels (Prometheus), adaptations (Woman In Black) and original fare (Sinister). We'll go through the good and bad to find the gems. Here's our definitive guide to the best horror movies of 2012: Source: http://www.movie-moron.com -- By Sheridan Passell
- JANUARY -

The Devil Inside
Starring: Fernanda Andrade, Suzan Crowley, Simon Quarterman, Evan Helmuth
Director: William Brent Bell
Released: 6 January 2012 (U.S. Dates)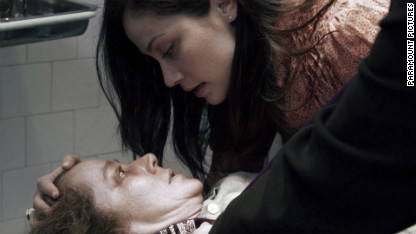 A daughter travels to see her mother in an Italian hospital for the criminally insane, to find out why she brutally killed three people 20 years earlier. There she recruits two young exorcists to use unconventional methods of science and religion in an effort to rid her mother of the powerful demons possessing her. The trailer is fairly effective, but I don't trust the director of video-game horror movie 'Stay Alive' to deliver a finished product that feels authentic. Also, this was filmed way back in December 2009, and such a delay is almost always a bad sign. The exorcism genre in particular can't escape the fact it was all done much better 38 years ago.
Underworld: Awakening
Starring: Kate Beckinsale, Sandrine Holt, Michael Ealy, India Eisley
Directors: Måns Mårlind, Björn Stein
Released: 20 January 2012

After being held in a coma-like state for fifteen years, vampire Selene (Beckinsale) learns that she has a fourteen-year-old vampire/Lycan hybrid daughter, Eve, and when she finds her, they must stop BioCom from creating super Lycans that will kill them all. The line between this and 'Resident Evil' is getting increasingly blurred – whether it's BioCom, the action, or the look of the lead females. The directors of this 3D installment made 'Shelter', which has a 0% rating on Rotten Tomatoes. The 'Underworld' franchise has a very loyal following, but so far this movie does not look good. For fans only. [Critics: 26%] [Public: 6.4] – Mixed Reaction
The Grey
Starring: Liam Neeson, Dermot Mulroney, James Badge Dale, Nonso Anozie
Director: Joe Carnahan
Released: 27 January 2012

Killer-wolves movie about an oil drilling team who struggle to survive after their plane crashes in the frozen Alaskan wild. Soon they are being hunted by a deadly pack… Liam Neeson is the star and his 'A-Team' director is behind the camera, but the tone here is tense and desperate. Looks like 'The Edge' with a high body count. For those who say the premise is totally unrealistic, a woman was killed by wolves in Alaska in 2010, and attacks have become more common. But what everyone's most interested in is Neeson's broken bottle knuckles, which he uses for self defense. The movie looks gruelling, entertaining and Neeson has basically got better and better with age. [Critics: 79%] [Public: 6.9] – See It
- FEBRUARY -
The Woman In Black
Starring: Daniel Radcliffe, Ciarán Hinds, Janet McTeer
Director: James Watkins (Eden Lake)
Released: 3 February 2012

My favourite play, and TV movie, is being turned into a theatrical movie. And from the footage so far, they've nailed the look of it. Daniel 'Potter' Radcliffe plays a lawyer who's ordered to travel to a remote village and sort out a recently deceased client's papers. As he works alone in the client's isolated house, he begins to uncover tragic secrets, and glimpse a freaky mysterious woman dressed only in black. Radcliffe's well suited to this role, if a little too young. Jane Goldman ('Kick-Ass', 'Stardust') adapted the '83 novel. Can't wait. [Critics: 65%] [Public: 6.5] – See It
The Innkeepers
Starring: Sara Paxton, Pat Healy, Kelly McGillis, George Riddle
Director: Ti West
Released: 3 February 2012

The last two employees of a supposedly haunted hotel count down the final days before the hundred year old business goes bankrupt. Mysterious guests check in, including a former TV actress turned psychic (Kelly McGillis) and an old man insistent on staying in room 353. As several strange occurrences begin to add up, the employees must decided whether or not to believe in the supernatural rumours. Director Ti West's previous horror 'The House of the Devil' became something of a cult hit. He says this will be "scarier", with more jokes, and more mainstream. Hopefully he'll continue to put atmosphere before quick edits and jump scares. [Critics: 78%] [Public: 5.6] – Mixed Reaction
Gone
Starring: Amanda Seyfried, Jennifer Carpenter, Sebastian Stan, Wes Bentley
Director: Heitor Dhalia
Released: 24 February 2012

When her sister disappears, Jill (Seyfried) is convinced that the serial killer who, she claims, kidnapped her two years earlier has returned. The police don't believe her, so she sets out to pursue the truth. Is she just mentally ill? Or is she somehow responsible? The trailer hints at a predictable and pretty dull plot – If the killer isn't one of the cops I'll eat my hat. From the writer of 'Underworld Awakening' and 'Untraceable'. The director is new to the genre. Looks like a rental at best. [Critics: 12%] [Public: 5.7] – Mediocre
The Raven
Starring: John Cusack, Luke Evans, Alice Eve, Brendan Gleeson
Director: James McTeigue
Released: 9 March 2012

A fictionalised account of the last days of Edgar Allan Poe's life, in which the poet (Cusack) teams up with a detective (Evans – Immortals) to pursue a serial killer who's kidnapped Poe's fiancé and gone on a killing spree which mimics the writer's stories. This is from the director of 'V For Vendetta' and 'Ninja Assassin'. The tone of the trailer sits halfway between Downey Jr.'s 'Sherlock Holmes' and Depp's 'From Hell'. The imagery too could be from either of those movies – a chance to create something visually unique riffing off Poe's work has been missed. Looks like a fascinating man reduced to a bog-standard movie. [Critics: 22%] [Public: 6.4] – Mixed Reaction
Silent House
Starring: Elizabeth Olsen, Adam Trese, Eric Sheffer Stevens, Julia Taylor Ross
Directors: Chris Kentis, Laura Lau
Released: 9 March 2012

A remake of the 2010 Uruguayan movie of the same name, this sees a young woman (Elizabeth Olsen, younger sister of the Olsen twins) trapped inside her family's lakeside retreat and slowly driven mad by something from the house's past. The directors of 'Open Water' want to "make audiences feel as though the story is happening to them, that they are really experiencing the events leading to these brutal murders". So, like the original, the movie's filmed almost entirely in one long take. Which means a lot of in-your-face shaky hand-held camerawork. Which may or may not be a good thing. [Critics: 41%] [Public: 5.1] – Mediocre
Intruders
Starring: Clive Owen, Carice Van Houten, Daniel Brühl, Pilar López de Ayala
Director: Juan Carlos Fresnadillo
Released: 30 March 2012

Sophisticated chiller in which reality and imagination mingle and overlap. Two children living separate lives in Spain and the UK are visited each night by a faceless intruder, a terrifying being who wants to take possession of them. Think 'Pan's Labyrinth' with a darker edge. Clive Owen plays the British girl's father. From the director of 'Intacto' and '28 Weeks Later', this should be something worth seeing, but while early reviews say it is effectively atmospheric, they complain the script loses its way and soon becomes too generic. The location team actually wanted to film a scene of this in my dad's back garden, but he said no because it would mean a lot of noise at night – shame. [Critics: 33%] [Public: 5.3] – Mediocre
- APRIL -

The Cabin In The Woods
Starring: Chris Hemsworth, Richard Jenkins, Bradley Whitford, Amy Acker
Director: Drew Goddard
Released: 13 April 2012

Written by Drew Goddard ('Cloverfield', 'Lost') and Joss Whedon ('Buffy') this is a tongue-in-cheek exercise that promises a new twist on the classic young-people-stranded-in-the-woods horror trope. All we know is a group of college kids/young professionals spend a weekend at a mysterious cabin in the woods, while Jenkins and Whitford will play white-collar co-workers with a mysterious connection to the cabin. The movie has sat on the shelf now for a couple of years, caught up in the financial mayhem at MGM. Chris Hemsworth looks about 5 years younger here than he does now. Getting comedy-horror right is extremely hard, but word is they nailed it. [Critics: 91%] [Public: 7.3] – See It
- MAY -

Dark Shadows
Starring: Johnny Depp, Chloe Moretz, Helena Bonham Carter, Michelle Pfeiffer
Director: Tim Burton
Released: 11 May 2012

Based on the somewhat campy gothic soap opera from ABC in the late 60s, this follows noble Barnabas (Depp) and his run-ins with various monsters, witches, werewolves and ghosts. Barnabas is turned into a vampire in 1752 and buried alive by the witch whose affections he rejected. When he's finally freed in 1972 he returns to his manor to find it's occupied by his dysfunctional descendants and other residents, all of whom have dark secrets. The movie is familiar tonal territory for Burton and Depp. Perhaps too familiar.
Piranha 3DD
Starring: Katrina Bowden, Ving Rhames, Christopher Lloyd, Danielle Panabaker, Gary Busey
Director: John Gulager
Released: 1 June 2012
A year after the attack on Lake Victoria by prehistoric piranhas, the creatures begin traveling through the town's plumbing, gaining access to swimming pools and the newly-opened waterpark "Big Wet". Alexandre Aja's 'Piranha' made $65m at the worldwide box office, from a $24m budget. It also earned a surprising 75% from critics on Rotten Tomatoes. So the producers have rushed out a sequel, real fast. It's a whole new creative team this time which sees the director of the Feast trilogy joining forces with the writers of 'Saw's IV-VII. The producers held a public poll asking which celebrity we'd like to see eaten by fish – and so now David Hasselhoff is in the movie, in his 'Baywatch' trunks. With that and the title ('double D'), this is a classy production all round.

The Loved Ones
Starring: Xavier Samuel, Robin McLeavy, John Brumpton
Director: Sean Byrne
Released: 1 June 2012
When Brent turns down his classmate Lola's invitation to the prom, she concocts a wildly violent plan for revenge.
[Critics: 97%] [Public: 6.7] – See It
Prometheus
Starring: Noomi Rapace, Charlize Theron, Michael Fassbender, Guy Pearce, Idris Elba
Director: Ridley Scott
Released: 8 June 2012

Ridley Scott returns to the 'Alien' universe, but somewhere in development this turned from a straight prequel into 'something else'. Indeed it sounds like the Aliens we know may now turn out to be little more than cameos, or that they appear in recognisable form only toward the end because it's a story about how the species came to be. Regardless, Ridley Scott's directing a deep space horror-thriller and that's something to relish. Rapace ('Girl With' Dragon Tattoo') will play a scientist on board the Prometheus alongside explorer Charlize Theron. Michael Fassbender will play an android. Scott has said it'll be set 30 years before Alien and include the origins of the 'space jockey' creature seen near the alien eggs in the original. [Critics: 74%] [Public: 7.3] – See It
Abraham Lincoln: Vampire Hunter
Starring: Benjamin Walker, Mary Elizabeth Winstead, Rufus Sewell, Anthony Mackie
Director: Timur Bekmambetov
Released: 22 June 2012

This sounds like a SNL skit, but it's got a $69 million dollar budget behind it and is being played seriously. Adapted by Seth Grahame-Smith from his novel, this is directed by Bekmambetov ('Wanted') and produced by Tim Burton. Relative unknown Walker is the young Lincoln, Winstead is his wife. It's a 3D 're-imagining' of Lincoln's life that depicts the 16th U.S. president as an axe-throwing, highly accomplished killer of vampires, on a mission of revenge against them and their slave-owning protectors since they killed his mother. Let's hope this version doesn't become better known than the real history. [Critics: 35%] [Public: 6.1] – Mixed Reaction
- AUGUST -
Paranorman
Starring: (voices) Kodi Smit-McPhee, Anna Kendrick, Casey Affleck, Christopher Mintz-Plasse
Directors: Sam Fell, Chris Butler
Released: 17 August 2012

Not exactly a horror movie, but rather an endearing tribute to the genre. This is a 3D stop-motion animation about a misunderstood boy (Smit-McPhee, 'Let Me In') who can speak with the dead, whose town comes under siege by zombies. To save it from the centuries-old curse he's also forced to take on ghosts, witches and moronic grown-ups. Affleck and Mintz-Plasse voice a jock and school bully, Kendrick is the big sister. This is from the studio behind the well-received 'Coraline' and has a very similar look. [Critics: 87%] [Public: 7.5] – See It
The Awakening
Starring: Rebecca Hall, Dominic West, Imelda Staunton
Director: Nick Murphy
Released: 17 August 2012
In 1921, England is overwhelmed by the loss and grief of World War I. Hoax exposer Florence Cathcart visits a boarding school to explain sightings of a child ghost. Everything she believes unravels as the 'missing' begin to show themselves.
[Critics: 60%] [Public: 6.4] – See It
The Apparition
Starring: Ashley Greene, Sebastian Stan, Tom Felton, Luke Pasqualino, Julianna Guill
Director: Todd Lincoln (his first movie)
Released: 24 August 2012

Haunted house tale "based on true events", about a grad student with a secret and his girlfriend who are terrorised by a supernatural presence unleashed during a college experiment. It's set in a cul-de-sac in the Valley, in an area where a lot of houses don't ever get finished, so the couple are alone in a yet-to-be-formed neighbourhood. 'Twilight's Ashley Greene stars with 'Gossip Girl's Sebastian Stan and 'Harry Potter's Tom Felton. Producer Joel Silver ('House Of Wax', 'Gothika') says the movie was influenced by 'Paranormal Activity'. Influenced by its box office, certainly. [Critics: 4%] [Public: 4.2] – Avoid
The Tall Man
Starring: Jessica Biel, Jodelle Ferland, Stephen McHattie
Director: Pascal Laugier
Releaed: 31 August 2012


When her child goes missing, a mother looks to unravel the legend of the Tall Man, an entity who allegedly abducts children.[Critics: 45%] [Public: 6.0] – Mixed Reaction
The Possession
Starring: Jeffrey Dean Morgan, Kyra Sedgwick, Agam Darshi
Director: Ole Bornedal
Released: 31 August 2012

Horror movie about Jewish mysticism. When a girl buys an antique box at a yard sale, the malicious ancient spirit inside inhabits and threatens to devour her. Soon her father is teaming with his ex-wife to try and end the curse upon their child. It's loosely based on events from a few years ago when a similar collectable, that was said to have brought back luck to all its owners and have been brought to America by a Holocaust survivor, caused a bidding frenzy on eBay. The movie is produced by Sam Raimi and comes from the director of both versions of 'Nightwatch'. It was meant to be released a full year ago. Again, such a delay is rarely a good sign. [Critics: 38%] [Public: 6.0] – Mixed Reaction
- SEPTEMBER -
[REC] 3: Genesis
Starring: Carla Nieto, Leticia Dolera, Diego Martín, Àlex Monner
Director: Paco Plaza
Released: 7 September 2012

A sequel with some prequel elements explaining how the infection started. The reporter Angela will not appear this time as it takes place miles from the building where the first two were set. This one begins with a chapel wedding and reception (where there are naturally lots of cameras). Both previous installments were very good Spanish found-footage chillers and with this coming from the co-director of those there's no reason the creativity can't continue. [Critics: 41%] [Public: 5.2] – Mediocre
Resident Evil: Retribution
Starring: Milla Jovovich, Sienna Guillory, Colin Salmon, Michelle Rodriguez, Shawn Roberts
Director: Paul W.S. Anderson
Released: 14 September 2012

In this fifth installment, game favourites Ada Wong, Barry Burton and Leon Kennedy all join the adventure, with the latter as the leader of a resistance group that unites with Alice (Jovovich) to fight Umbrella corporation and the undead. Chris and Claire Redfield (Wentworth Miller and Ali Larter) are not in the movie as they've been 'abducted' by Umbrella. However, returning characters include Jill Valentine and, oddly, Rain, Carlos and 'One' despite all three being killed in previous movies. I'm guessing cloning or flashbacks are involved. It's not like the narrative has to make any sense at this point. Jovovich has suggested that the Las Plagas parasite from the fourth video game will also feature in the story. [Critics: 29%] [Public: 5.9] – Mediocre
House At The End Of The Street
Starring: Jennifer Lawrence, Elisabeth Shue, Max Thieriot
Director: Mark Tonderai
Released: 21 September 2012

Star on the rise Jennifer Lawrence ('Hunger Games', 'X-Men: First Class'), headlines this story of a teenage girl who moves into a new home with her mom (Shue), next door to where a double murder took place, and soon befriends the bloodbath's only survivor (Thieriot, from 'My Soul To Take'). From the British director of the not-too-bad 'Hush', this is said to be "in the vein of 'Psycho'". I'm assuming there will be great twists and it's not as obvious as it sounds. Lawrence is a pretty great actress so should elevate the project. The release date was recently changed so it would come out one month after 'Hunger Games' – which is about to "do a 'Twilight'". [Critics: 12%] [Public: 5.7] – Mediocre
- OCTOBER -
V/H/S
Starring: Calvin Reeder, Lane Hughes, Adam Wingard
Directors: Various including Ti West, Joe Swanberg, David Bruckner
Released: 5 October 2012
When a group of misfits is hired by an unknown third party to burglarize a desolate house and acquire a rare VHS tape, they discover more found footage than they bargained for. [Critics: 53%] [Public: 6.0] – Mixed Reaction
Sinister
Starring: Ethan Hawke, Vincent D'Onofrio, James Ransone, Fred Dalton Thompson
Director: Scott Derrickson
Released: 12 October 2012

Ethan Hawke plays a whistle-blowing journalist who uproots his family in pursuit of his next big story. When he discovers a box of old home movies in his new attic, he realises this grisly footage could be the basis of his greatest book yet, but only if he can piece together the string of murders they show, murders that took place in his new home. From the director of the excellent 'Exorcism Of Emily Rose' and the co-producer of 'Paranormal Activity' and 'Insidious', this is a very low budget supernatural film that is almost certain to lie somewhere between those two titles. I trust Hawke's choice of roles, so I expect this to be one to watch. [Critics: 62%] [Public: 7.3] – See It
Paranormal Activity 4
Starring: Katie Featherston
Directors: Henry Joost, Ariel Schulman
Released: 19 October 2012
It has been five years since the disappearance of Katie and Hunter, and a suburban family witness strange events in their neighborhood when a woman and a mysterious child move in. [Critics: 25%] [Public: 4.5] – Avoid
Citadel
Starring: Anuerin Barnard, James Cosmo, Amy Shiels
Director: Ciaran Foy
Released: 19 October 2012
An agoraphobic father teams up with a renegade priest to save his daughter from the clutches of a gang of twisted feral children who committed an act of violence against his family years earlier. [Critics: 75%] [Public: 6.7] – See It
Silent Hill: Revelation 3D
Starring: Sean Bean, Malcolm McDowell, Radha Mitchell, Carrie-Anne Moss
Director: Michael J. Bassett
Released: 26 October 2012

When her father disappears, Heather Mason is drawn into a strange and terrifying alternate reality that holds answers to the horrific nightmares that have plagued her since childhood. [Critics: 5%] [Public: 6.4] – Mixed Reaction
- NOVEMBER -

The Bay
Starring: Christopher Denham, Michael Beasley, Kether Donohue, Mellie Boozer
Director: Barry Levinson
Released: 2 November 2012

Found footage movies originally came from no-budget first timers, but increasingly big name directors are getting in on the act. Romero did 'Diary Of The Dead', JJ produced 'Cloverfield', now Barry Levinson ('Rain Man', 'Diner') is tackling an biological-disaster horror set in the Chesapeake Bay. An isopod parasite rises from the deep to infect human hosts and fish alike with a mutated disease. Events unfold via a series of recordings on camera phones, 911 calls, and other scraps of video. The cast are made up of unknowns and it's also being produced by the team behind 'Paranormal Activity'. Levinson directed the criminally underrated 'Sphere', so I have faith he'll be able to build a powerful atmosphere of dread, at the very least. [Critics: 78%] [Public: 5.8] – Mixed Reaction
The Collection
Starring: Josh Stewart, Christopher McDonald, Shannon Kane, Navi Rawat
Director: Marcus Dunstan
Out: 30 November 2012

2009′s 'The Collector' gets a sequel, even though it didn't do great box office. There wasn't much explanation as to why serial killer The Collector booby-trapped houses, or collected, but this time expect to delve somewhat into the back story. We're headed to The Collector's own booby-trapped hideout since Arkin, the protagonist from the first movie, is blackmailed into finding it, and the kidnapped woman inside, by her wealthy father. This is worth watching if you're missing Jigsaw, not least because the first 'Collector' script was considered as a prequel to 'Saw', and the writer/director penned 'Saw's IV-VII.
Silent Night
Starring: Jaime King, Malcolm McDowell, Donal Logue, Ellen Wong, Brendan Fehr
Director: Steven C. Miller
Out: 30 November 2012
The police force of a remote Midwestern town search for a killer Santa Claus who is picking off citizens on Christmas Eve.